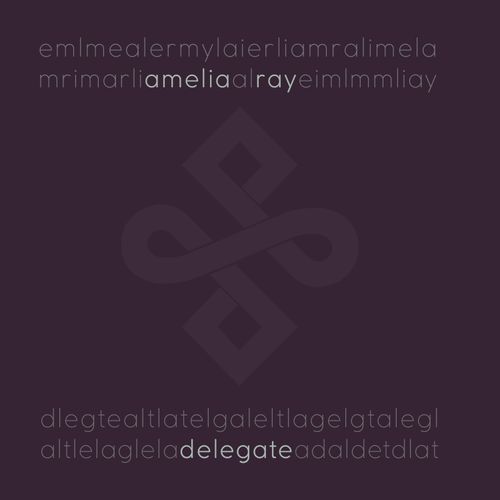 "Easy listening mood and style…layered with a blissful vocal. Arrangement is so smooth, every transition is thoughtful." 
— Nagamag.com
This past summer, I was feeling overwhelmed trying to juggle multiple projects within the ever-changing landscape of being an independent musician. A friend suggested I focus on outsourcing tasks, and jokingly challenged me to write a love song about delegating responsibility to help me learn how to do it. 
The lyrics came easily enough. I imagined someone who, after weighing the pros and cons of continuing a love affair, ultimately leaves the decision to the other party. The music was a bit harder. I knew the style of music I wanted but didn't know how I was going to fit the elaborate Memphis soul arrangement I was hearing in my head into my limited budget. 
So I decided to approach "Delegate" from a subtractive rather than additive point of view. Applying the study of triads that have been the focus of my guitar lessons for the past two years, I dissected the song into small parts that I could easily play. I came up with a naked, vulnerable arrangement that sounds unlike anything I've written before. 
The exercise also helped me learn the first rule of delegation, namely, having clear explanations of the tasks to be assigned. I feel I'm one step closer to grasping the motto of successful entrepreneurs the world over: "Work smarter, not harder."
- Amelia Ray, December 2022
LYRICS 
Do I love you? 
Do I trust you? 
Can we start anew? 
I'm in no shape to decide so 
I delegate it to you 
Is it springtime? 
Are you all mine? 
Can we make it through? 
There's a feeling inside but 
I delegate it to you 
Could this be forever? 
We might be so sad 
I should walk away, however 
Baby, you're the best I ever had 
Are we there yet? 
Are you my safe bet? 
Does it all ring true? 
See, I've got nothing to hide so 
I delegate it to you 
I should walk away, however 
We might be so glad 
This time could be forever 
'Cause, baby, you're the best I ever had 
Do you need me? 
Will you deceive me? 
Leave me sad and blue? 
I'll cast my fears aside and 
I'll delegate it to you 
© 2022 Amelia C. Ray/Annabel Is Her Mother Today (ASCAP)